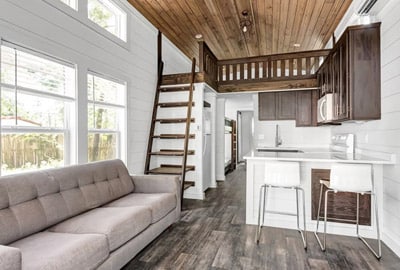 As the tiny house movement surges forward, there's a blossoming interest in finding the best tiny homes on the market. From tiny home builders to enthusiasts, there's a collective push towards minimalist living, all without compromising luxury and functionality. With more people yearning for this way of life, tiny homes have taken the center stage. Dive with us into the fascinating world of tiny living and discover what's making waves today.
When exploring the best types of tiny homes, it's evident that modern designs emphasize both functionality and aesthetics. Windows are strategically placed throughout these homes, illuminating living areas and bedrooms, making the space feel expansive and connected to the outdoors. A key feature in many top-tier models is the inclusion of water tanks, facilitating off-grid living and sustainability. The essence of living small doesn't compromise on amenities; many tiny homes feature a full kitchen, a well-designed bathroom, and adaptable living areas that can transform based on the homeowner's needs.
The dream of living big in a condensed space is made tangible with open floor plans and creative use of room. From spacious porches to innovative storage solutions, the best tiny houses create a harmonious balance between minimalist life and maximum comfort.
What's the Appeal of Tiny Houses?
Let's dig deeper into the essence of tiny houses!
Space Efficiency: A tiny home maximizes every inch of its living space, with designs that cleverly incorporate both storage space and functional areas. Given their square footage, ranging typically between 200 and 400 square feet, these homes create an illusion of expansiveness.
Eco-Friendly: Tiny homes often emphasize sustainability. From integrated water tanks for off-grid living to solar panels, these homes prioritize the environment with just enough square feet for comfortable living.
Versatility: Whether you're a solo adventurer desiring a vacation home or a couple seeking a beach cottage experience with rustic feel, there's a tiny house tailored for you. Not every house boasts such versatility, but a tiny house can help you enter the housing business without getting your hands dirty.
Affordability: Smaller in size often means less expensive. However, this doesn't mean skimping on luxury or essential features. Saving money on building a tiny house means giving shoppers plenty of money to spend on things they want. An effective shopping experience coupled with a wonderful tiny house with a huge number of square feet behind the front door.
Exploring Different Tiny Home Styles
Styles differ much depending on the owner's preferences. Take a look at some major considerations.
1. Mini Mansions Tiny Homes
What are the benefits?
The Rustic Retreat: A tiny house that harmoniously blends rustic vibes with modernity. Its large windows bathe rooms in natural light, making the living area feel expansive. LED lights in the living room, an open-concept layout for the kitchen space, and a cozy sleeping loft are just a few highlights.
The Coastal Escape: A nod to beach lovers, this model gives off beach cottage vibes with its french doors and high ceilings. The full bathroom and spacious sleeping loft, accommodating a queen bed, ensure you're not missing out on any comforts.
The Nomadic Abode: Tailored for those bitten by the travel bug. Water tanks and solar options make off-grid adventures a breeze.
2. Contemporary Tiny Homes
These, too, have their own charms.
Urban Chic: A contemporary tiny home model sporting double doors and a flair for modern design. The kitchen space and living area are adorned with many windows, ensuring a flow of natural light.
Eco-friendly Elegance: Championing sustainability, this design features rainwater harvesting systems, solar panels, and energy-efficient appliances.
Dual Purpose Designs: A gem among tiny houses, it boasts two bedrooms, catering to small families or those wanting a guest house experience.
3. Custom Creations
Many tiny home builders offer custom finishing, allowing potential tiny home shoppers to modify base models. This ensures that the end product aligns with personal needs and aesthetics, from expanding storage space to tweaking the open-concept layout.
Living Big in Tiny Homes: The Practical Aspects
Here are some crucial practical aspects to keep your radar on:
Amenities & Utilities: Think full kitchen, full bathroom, and even areas crafted for gardening enthusiasts. In terms of utilities, many tiny homes can connect to city amenities. Alternatively, off-grid solutions, like composting toilets and water tanks, cater to those wanting more independence.
Design & Experience: From walking through double doors to relaxing on the porch, the experience of living in a tiny home is unparalleled. For those unable to visit physical locations, some tiny house companies offer interactive online design features and high-quality virtual tours. You can choose what material covers the home or how your bedroom will look.
The allure of the tiny house movement is more than just a fleeting trend. It represents a shift in how we perceive living space, sustainability, and lifestyle. The best tiny homes today showcase innovative designs and features, ensuring that the dream of tiny living is accessible to all. If you're intrigued by the idea of living big in a small space, perhaps it's time to explore this mesmerizing world.
Best Tiny Homes Takeaway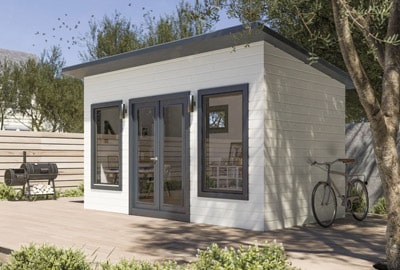 The tiny house movement has certainly etched a niche in modern architectural trends, emphasizing the charm of living small yet dreaming big. As the demand for the best tiny homes grows, the industry responds with innovative designs, maximizing every square foot of space. From the classic designs to the luxury offerings the options are abundant. Whether you're a solo dweller or a small family, there's a tiny house out there that perfectly matches your dreams and practical needs.
Remember, it's not just about finding a house; it's about discovering a new way of life. And good contractors are always there to help you.
Frequently Asked Questions — FAQ
What's the typical square footage of the best tiny homes?
While sizes can vary, most tiny houses offer a living space between 200-400 square feet. Yet, the design often makes it feel larger.
Can I customize my tiny house for more space or features?
Absolutely! Many tiny home builders offer custom finishing, letting buyers adapt homes to their specific needs, be it more storage space or an additional bedroom.
How different are the amenities in tiny home shells compared to regular houses?
In essence, tiny homes come with most amenities found in larger homes. The difference often lies in scale. For instance, while a full kitchen is standard, some appliances might be compact.
How do utilities work in tiny homes?
Many tiny houses are equipped for city utility connections. However, some are designed for off-grid living with water tanks, solar panels, and other features allowing users to avoid high bills. It should be discussed not during the building process of the small structure, but when the small home is planned.
Can I design my tiny home online?
Yes, depending on the tiny house company. Many offer interactive online design features complemented by high-quality virtual tours for a comprehensive shopping experience. You should find the best tiny house company that would fit your needs and provides the interactive online design feature.
I've heard a lot about "off-grid" tiny homes. What does that mean?
An "off-grid" tiny home is designed to operate independently of public utilities. This means the house often incorporates features such as solar panels, water tanks for water storage, and composting toilets, enabling homeowners to live more sustainably and in remote locations.
Are there tiny homes that offer features like large windows or double doors to enhance natural light?
Absolutely! Many tiny homes prioritize natural light, incorporating large windows, many windows, or French and double doors. This not only illuminates the living area but also expands the perceived space, giving the house an airy feel. Such add-ons are also great for the kitchen area, loft area, or any other room where much light is a must.
How feasible is it to convert a tiny home into a vacation home or beach cottage?
Quite feasible! Many people use tiny homes as vacation homes or beach cottages because of their mobility and compact nature. The best tiny home builders can even tailor the design to suit a coastal aesthetic or any other vacation setting you have in mind.
What is the "Tiny House Nation" I've heard about?
"Tiny House Nation" is a popular television show that celebrates the tiny living movement. The show follows builders and homeowners as they create and explore tiny homes, emphasizing the benefits of living small and the innovative design strategies employed in small spaces.