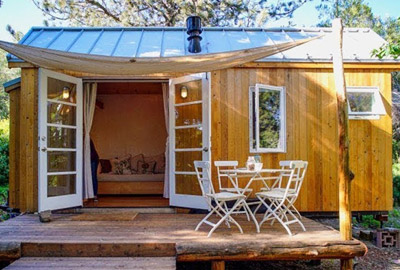 For centuries, the log cabin has been a symbol of humble beginnings, rustic charm, and the adventurous spirit. Today, with the evolution of the tiny house movement, the log cabin and tiny house worlds have collided to form the log cabin tiny houses. These unique abodes offer the quintessential cabin aesthetic with the convenience of a tiny home.
For those who yearn for rustic charm, tiny log houses are the answer. Crafted with care, these tiny houses merge the aesthetic of a small house with the compactness of a tiny home. Many come with a bedroom overlooking a scenic view, and porches perfect for a morning coffee.
Available in kits, it's possible to build your own wooden haven without breaking the bank. Relax on the porch, listen to the timber trail, and soak in the tranquility of tiny log homes.
Tiny Mountain Homes
Perched on the side of a serene mountain, tiny log cabins offer an intimate connection with nature. The mere sight of a log home nestled among trees, with its front porch and cozy loft, is enough to evoke a sense of relaxation. With a limited square footage, these cabins make perfect use of every square foot. Many feature a central great room for gatherings, a compact dining space, and a functional kitchen. High ceilings provide a spacious feeling, and loft spaces double as cozy bedrooms.
Moreover, the presence of campgrounds near some of these mountainous locations offers a communal experience for tiny cabin dwellers.
Cottage Tiny Home
The cottage-style tiny log home embodies the essence of a vacation retreat. Be it as a guest house on your property or a standalone vacation home, these tiny cabins offer all the comforts of a traditional home in a compact space. Unique features like the steep-pitch roof, quaint front porches, and picturesque windows are often seen. The interior might flaunt an open floor plan, maximizing living space and ensuring every corner is utilized.
Whether it's the bathroom with modern plumbing or the kitchen with space-saving conveniences, everything in these tiny homes is designed for efficiency.
Log Cabin Tiny Home: in practice
Living in a log cabin tiny home doesn't just offer aesthetic pleasure; it's also a practical choice. Many log cabins are code compliant and can be placed on various land types, from personal property to specialized tiny house communities. They're adaptable to different family sizes, and with so many options available, potential homeowners can find the perfect fit for their needs.
Cabins on wheels bring the added advantage of mobility, allowing owners to relocate their homes as desired. This mobile park model offers a blend of convenience and tradition. Plus, the cost of maintaining a tiny cabin is significantly lower than a full-sized house, especially when considering energy bills and general upkeep.
Customizing Your Tiny Log Space
The allure of tiny log homes lies in their potential for customization. From the ceiling to the floor, every element is a canvas waiting for a personal touch. You can create a cozy reading nook in the middle of your living space, or add a spacious front porch for outdoor relaxation.
For those who crave more space, extensions are possible. A separate room for storage, an expansive dining room, or even a dedicated bathroom can be added, depending on the owner's needs.
Log Cabin Tiny Homes Takeaway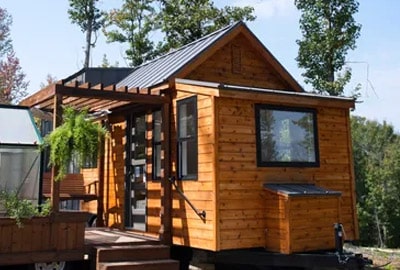 Log cabin tiny homes are more than just a trend; they represent a lifestyle choice that combines nostalgia with modernity. Whether you're drawn to the idea of leading an adventurous life in a tiny log cabin on a mountain or prefer the charm of a cottage-style tiny house, the options are limitless. Embracing this lifestyle means prioritizing experiences over possessions, making memories over acquiring more rooms, and cherishing the simple joys of life. Before embarking on this journey, always check local regulations, consider long-term value, and above all, ensure your tiny log cabin becomes the private sanctuary you've always dreamt of.
When it comes to the log cabins and tiny log cabin designs, many potential homeowners often look towards conestoga log cabins or similar patterns.
These designs often encapsulate the essence of both log homes and log cabins.
The appeal of these tiny cabins isn't just in their aesthetic charm but also in the practicality they offer.
Imagine having a new log cabin in a serene location, where the serenity log cabin concept merges seamlessly with nature, giving homeowners a private escape.
For those looking for a more minimalistic approach, small cabins often present an excellent solution.
These might range from the hunting cabin to vacation homes, and they can serve as the perfect guest house on an expansive property.
Even within the tiny house category, there are designs like the Plymouth cabin or the Catskill cabin, which emphasize the tiny log home concept.
The allure of such dwellings often lies in their loft space and smart use of square foot specs, not to mention amenities like a cozy dining area or a spacious great room.
As a homeowner, the only option isn't just to purchase but also to create from the kit, especially when cost is a determining factor.
Of course, considerations such as local regulations play a role in the decision-making process. It's vital to ensure that the chosen log cabin tiny homes or park model cabins are code compliant. However, the long term value of these cabins often outweighs initial concerns.
Especially when you consider the flexibility of designs, rooms, and space, from a bedroom with a tall ceiling to bathrooms with full plumbing. Log cabins on wheels present an added convenience, allowing homeowners to relocate their homes when the desire strikes, embodying a truly adventurous life.
Frequently Asked Questions — FAQ
What are the benefits of park model cabins?
Park model cabins offer a blend of mobility and comfort. These homes are often designed to be transported, offering homeowners the flexibility of changing locations while retaining the comforts of a fixed home.
How do log homes and log cabins differ?
While both are made of logs, a log home typically refers to a larger, more permanent structure, whereas log cabins often denote smaller, sometimes temporary or vacation dwellings.
What's the difference between square feet and square footage?
Both terms refer to the area of a space. While square feet is a measurement unit, square footage is the total area measured in square feet.
Can a tiny log home have more than one room?
Absolutely! Modern designs often incorporate multiple rooms, including a bedroom, loft, bathroom, and living space. The design can vary depending on family size and requirements.
Are tiny cabins suitable for larger families?
While traditionally small, many tiny cabins and tiny homes are now designed with so many options to optimize space and rooms for larger families, making them an excellent choice for many.
Why are log cabins on wheels popular?
They offer the convenience of mobility. Whether it's a change in scenery or local regulations, having a cabin on wheels ensures you can easily relocate.
What is the average square footage of a log cabin tiny home?
Typically, they range from 200 to 400 square feet, but sizes can vary based on design and owner preferences.
Can I move my tiny log cabin if it's on wheels?
Absolutely! These mobile log cabins, often referred to as park models, are designed for mobility. However, ensure you're compliant with transportation regulations.
Are there kit options for log cabin tiny homes?
Yes, many companies offer the tiny log home kit, allowing homeowners to be part of the building process and sometimes save on cost.
How does plumbing work in these tiny log homes?
Modern tiny log cabins come with full plumbing systems, similar to regular homes, but on a smaller scale.
What's the appeal of a loft space in tiny log cabins?
Lofts maximize vertical space, providing extra room for sleeping or storage without increasing the footprint of the cabin. Plus, they add a charming aesthetic!