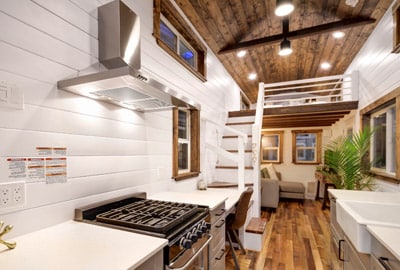 In the heart of the modern era, where the environment is a concern and style is a priority, families are finding solace in luxurious, compact living. Imagine tiny houses with high-end finishes, warm rooms adorned with custom features, a durable floor, porch, ceiling, and walls, and a loft overhead that provides a peaceful retreat. These units aren't merely models of minimalism, but are sophisticated higher-price homes complete with every amenity you could desire.
Expansive windows cast quality light into the interior, showcasing the impeccable style and modern lighting choices. With homes on wheels, mobility becomes an advantage, allowing a change of backyard scenery whenever the heart desires.
Luxury Tiny House: The perfect option
For those looking for the perfect option in homes, these tiny houses, with their unparalleled amenities and luxurious touches, from the doors to the floor, represent not just a sale but an invitation to a new way of living. A model of opulence, quality and price, every inch of this house speaks of meticulous attention to detail and a nod to the modern family's evolving needs. Whether it's the cozy living room for a close-knit family gathering or the sophisticated office space for work-from-home professionals, the tiny house offers a solution that melds luxury with practicality.
And with each unit's competitive price point, it's evident that luxury isn't confined to sprawling rooms but can be found in the tiniest nooks, creating a feeling of opulence from the floor up.
What is a Tiny House Anyway?
A tiny house is a beautifully unique design of a downsized dwelling unit with a higher price, often boasting of no more than 400 square feet, aiming to give all the amenities and features one desires. It's not just about minimalist living in limited space, it's about embracing purposeful living while relishing in style and luxury.
Wrap your mind around the concept of high-price luxury in small spaces, and you'll never see size in the same light again. Embrace the opulence that luxury tiny homes offer and let them redefine your perception of 'home'.
What Makes a Luxury Tiny Home?
Luxury tiny homes are not just about the price or the floor size; they're about the high-end finishes, the sophisticated amenities, and the quality of life they offer.
Here's a glimpse into their luxurious realm:
High-Quality Materials: Beyond wood and nails, luxury tiny homes often flaunt granite countertops, underfloor heating, a hardwood floor, a comfortable front porch, a cozy loft, and top-tier, higher-price appliances.
Technological Innovations: Envision office space with home automation systems, where lights, heating, coffee makers, and the rest of appliances await your command.
Customized Interiors: A luxurious tiny home unit has interiors tailored to your desires. Be it the glow from bespoke lighting or the comfort of a breakfast bar, every corner reflects your style.
Sustainable Features: Solar panels, water recycling, and eco-friendly solutions echo the spirit of sustainable living.
Inside Luxury Tiny Homes
Venture inside these luxury tiny homes, and you'll marvel at:
Multi-functional Furniture: Furniture in luxury tiny homes often serves dual purposes, transforming living spaces into bedrooms or seating areas.
Lofty Dreams: Just as a ground floor, a loft isn't only for storage space. It can be a plush bedroom, a snug reading nook, or even a full-fledged second floor.
Expansive Windows: Large windows not only offer natural light but also a slice of the outside world, right in your living room.
Detailed Craftsmanship: Intricate woodwork, high-quality interior finishes, and unique design touches that add character and charm.
Luxury Tiny Homes Pros and Cons
Well, let's consider the major ones!
Pros
Sustainability: With smaller floor plans, luxury tiny homes use fewer resources.
Mobility: Many luxury tiny homes are built on wheels, allowing homeowners the flexibility to change scenery beyond their front porch at will.
Customizability: From the bathroom to the loft, every room of such a model can be tailored to your tastes.
Cons
Space Limitations: Even with efficient use of floor and wall space, it's still a tiny home.
Higher Price: The price per square floor foot often leans on the higher side due to custom, high-quality materials.
Zoning Restrictions: Adapting to local zoning laws can be a challenge for tiny house enthusiasts.
Luxury tiny homes redefine opulence, proving that you don't need sprawling rooms to experience luxury. They are the perfect option for those who value quality over quantity. Whether you're looking to buy or simply admire, luxury tiny homes challenge conventions, bringing sophistication into compact living.
Luxury Tiny Homes as a Retreat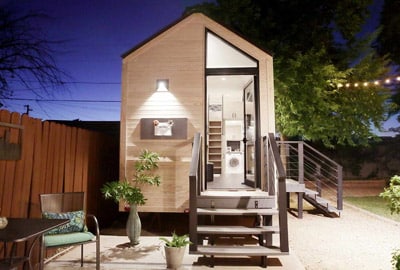 For potential buyers, a luxury tiny home is not just about downsizing or hopping onto a trend. It's about envisioning a retreat, a personal oasis where every day feels like an indulgent escape. Whether nestled amidst nature or stationed in an urban setting, these homes promise a life less ordinary.
Potential buyers aren't just investing in a property; they are investing in experiences, moments, and memories. Every glance out of the expansive windows, every cozy evening in the customized interiors amplifies the essence of a life well-lived.
Luxury Tiny Homes Takeaway
Luxury tiny homes are architectural marvels, embodying human ingenuity and redefining luxury. These homes beckon us to embrace a new kind of living. From its doors to its loft, from its sophisticated bedroom lighting to its quality finishes, every detail in a luxury tiny house narrates a tale of luxury, dreams, and design. Whether you and your family are contemplating ownership or simply admiring such a model, luxury tiny homes are revolutionizing our concepts of space and luxury. Such a home is totally worth its price!
Frequently Asked Questions — FAQ
Are luxury tiny homes a good investment?
Luxury tiny homes, with their sophisticated modern design and luxurious amenities, are making waves in the real estate market. These unique designs offer a fusion of minimalist living and luxury in a limited space. With ample windows ensuring natural light and features that can even accommodate a walk-in closet or a king-size bed, luxury tiny homes are no longer just about compromising space for style. When it comes to investment, the resale value of these luxury tiny houses can be quite alluring given their popularity and distinctive appeal. Weighing the initial costs, the price of customization, and the return on investment is vital. Especially, if you're aiming for a house that not only ensures sustainable living but also provides all the amenities of a larger home. With increasing awareness about sustainable living, these luxury tiny houses become the perfect option for those seeking to merge ecological responsibility with a luxurious lifestyle.
How do I ensure the durability of my luxury tiny home?
Ensuring the durability of your tiny luxury home starts with choosing reputable builders who prioritize quality materials and high-end finishes. Like a house of any price category, tiny homes also benefit from regular maintenance. Investing in underfloor heating can also prolong the life of your floor, while custom-built solutions can maximize space and functionality.
How to ensure longevity of luxury tiny homes?
Features like sturdy doors, energy-efficient windows, and top-notch interior finishes will not only enhance the luxurious feeling but also play a pivotal role in ensuring longevity. Whether it's the bathroom appliances or the seating area in the living room, quality should be the cornerstone in every tiny space of your luxury tiny home.
Can I customize a pre-existing design for my luxury tiny house?
Absolutely! Most tiny house builders offer customization options for luxury tiny homes. You can modify pre-existing models to fit your needs, whether it's adding more storage space, enlarging windows for more natural lighting, or incorporating a breakfast bar in the kitchen. A modern luxury tiny house can be tailored to create enough room for an office space or even a full bathroom, while some may opt for features like a sleeping loft or a front porch to sit and enjoy their backyard environment. With the vast array of choices, customizing is not only possible but encouraged, allowing homeowners to imbue their personal style and preferences into their luxury tiny home.