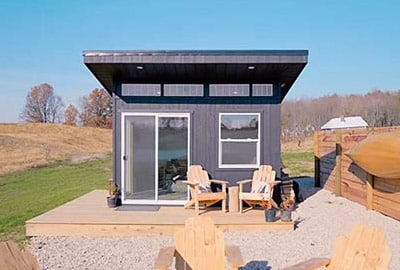 The tiny house movement is not just a trend; it's a lifestyle revolution. And what better way to experience it than by immersing yourself in a tiny cabin home Airbnb? These short-term rentals offer a glimpse into a world where the footage is limited but charm and efficiency reign supreme. Whether it's a romantic getaway you're after or just an adventurous night in a unique space, tiny house Airbnb options have you covered.
Tiny homes have soared in popularity as the epitome of eco-friendly comforts nestled within a small space. Imagine waking up in a rustic cabin, surrounded by the tranquil sounds of the forest around, and being just minutes away from popular destinations like Joshua Tree and Topanga Canyon. With the charm of awe-inspiring views seen through panoramic windows and the luxury of modern amenities like a full kitchen and Wi-Fi, it's no wonder that these houses have become a favorite choice for guests seeking short term rental opportunities. Their easily accessible locations, often within walking distance to hiking trails or key attractions, combined with unique personal touches like recycled materials, make every stay a special experience.
Whether you're nestled in the neat getaway of Hocking Hills or gazing at the stunning views from your sleeping loft, tiny homes provide all the specs needed for the perfect vacation. Plus, with nearby attractions and the city charm close at hand, it's the ideal spot for your next escape.
Tiny Home Rentals Beauty
Airbnb's hosts have tapped into the love for the tiny house trend by offering a range of tiny house rentals. From rustic cabins nestled in the woods to modern glass houses with large picture windows overlooking breathtaking landscapes, the choices are vast.
A few standout options include:
Eco-sustainable Havens: Many tiny homes on Airbnb are constructed using recycled materials, embracing a sustainable ethos.
Off the Grid Inns: Experience life unplugged in off-grid accommodations, some even located near active volcanoes or secluded in surrounding forests.
Rooftop Luxuries: Some tiny home options surprise guests with rooftop decks, perfect for stargazing or soaking up the sun.
Tree Houses: Elevate your Airbnb experience—literally—with a stay in a tree house. These are not just for kids; many come equipped with all the needed comforts of home.
Features to Expect in a Tiny Home Airbnb
Tiny doesn't mean lacking. Here's what you might find inside:
Modern Comforts: From Wi-Fi to air conditioning, these homes are tiny but mighty.
Bathroom Bliss: Many listings boast bathrooms complete with a standing shower or even a soaking tub.
Sleep Tight: Expect cozy sleeping arrangements, like loft beds or the queen-sized bed.
Kitchen Perks: A full kitchen, sometimes even a fully stocked one, makes meal prep a breeze.
Top Locations for Tiny Home
Airbnb Stays Travelers can find tiny houses all over, from the bustling big city to the serene countryside. A few notable spots include:
Joshua Tree: With its perfect views, it's the perfect location for a secluded getaway.
Hocking Hills: Hiking trails galore, easily accessible from many tiny house listings.
Topanga Canyon: An ideal spot near Los Angeles, offering a blend of natural beauty and nearby attractions.
Fall Creek: Nestled in the Conewago Mountains, it promises tranquility.
Why Choose Tiny over Big?
The appeal of staying in a tiny home, as opposed to traditional houses or hotels, is multifaceted:
Experience the Tiny Home Movement Firsthand: Get a taste of what it feels like to live tiny before committing.
Economical Choice: Often, these Airbnbs can be more affordable per night, making them perfect for budget travelers.
Unique Features: Whether it's a fire pit outside, a hot tub on a wooden deck, or panoramic windows, each tiny home Airbnb has its unique beauty.
Close to Nature: Many tiny homes, like the rustic cabin or tiny cottage types, offer direct access to nature's beauty, be it through nearby walking paths or the charm of the surrounding environment.
Tiny homes on Airbnb offer a unique experience, blending the appeal of the tiny home movement with the convenience and perks of short-term rentals. Whether you're after the romantic allure of a glass house or the adventurous spirit of a tree house, Airbnb's range of tiny home offerings promises an unforgettable stay.
Tiny Houses Airbnb: before you get one
As the tiny house movement continues to captivate individuals worldwide, the appeal of staying in a tiny home Airbnb intensifies. These spaces encapsulate more than just a trend—they symbolize a shift towards simplicity, efficiency, and eco-conscious living. From the panoramic views seen through huge picture windows in modern glass houses to the rustic perks of a wood-burning stove in a secluded cabin, every tiny home offers a unique experience. Whether you're looking for a personal getaway, an off-grid adventure, or a taste of living small, these tiny house rental companies provide an authentic glimpse into a life that many are now dreaming of.
With their distinctive features and innumerable personal touches, Airbnb's array of tiny homes is poised to redefine how we think about space, comfort, and travel.
Airbnb Tiny Houses Takeaway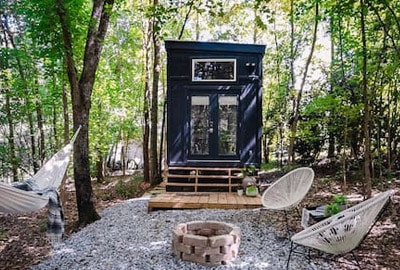 Airbnb has broadened its listings to include the appeal of a tiny home. Imagine a tiny house rental with a hot tub under the stars or a loft bed overseeing vast landscapes. Many offer natural light interiors, a rooftop deck, and a bathroom complete with standing showers. Whether it's a queen bed setup or a unique off-grid inn experience, the choices are vast. Some tiny house rental companies are even made from shipping containers! Plan your next vacation in one of these cozy abodes, complete with heated blankets and a fully stocked kitchen. It's the perfect spot for a getaway.
Frequently Asked Questions — FAQ
Does a tiny house rental offer unique features like hot tubs or a fire pit?
Absolutely! Many tiny house Airbnb listings boast luxurious features, from outdoor hot tubs to cozy fire pits, enhancing the overall guest experience.
Are tiny house Airbnbs mainly located in natural settings?
While many tiny homes on Airbnb are set in picturesque locations, offering beautiful views of the surrounding forest or easy access to hiking trails, there are also listings in urban settings, mere minutes away from the hustle and bustle of the city.
How does the square footage of a tiny house Airbnb compare to regular houses?
Generally, the living space in tiny homes is more compact, maximizing every inch. But don't be fooled by the square footage; their ingenious design ensures guests don't feel cramped, offering ample space and all the perks of a larger home.
Can I find a tiny Airbnb home near popular destinations like Joshua Tree or Topanga Canyon?
Absolutely! Many hosts offer tiny houses in or near sought-after locations, ensuring guests have both a unique stay and trouble-free access to popular attractions.
Is the living space too cramped in a tiny Airbnb home?
While the space might be limited, the design of these homes maximizes every inch, providing ample space for comfort.
Can I rent a tiny house for more than two guests?
Some tiny homes can accommodate more guests with features like additional loft beds or pull-out couches. Always check the listing details.
Are tiny homes equipped with modern amenities?
Absolutely! Many tiny house rentals on Airbnb come equipped with comforts like Wi-Fi, air conditioning, and a full kitchen.
How do I find tiny homes available for rent on Airbnb?
Simply search "tiny house Airbnb" or "tiny house rentals" on the platform. You can also narrow down your search by adding specific locations or features you're interested in.